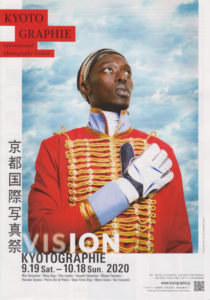 I spent a great weekend with a friend of mine at Kyotographie 2020! This is an annual international photo exhibition that usually takes place in spring, but has been postponed by half a year because of Covid19. My friend always comes to visit and together, we try to see as many of the exhibitions as we can.
As usual, the exhibitions were very far apart at various venues, but because this year the scope was much smaller than usual – 12 exhibitions with 3 associated programs – we were able to see all but four of them, and we weren't even overly stressed. My favourites are below, you can even "walk" through the exhibitions online – check out the links!
It's hard to pick my favourite this year. I liked Mari Katayama's photos of her body covered with gold glitter. Atsushi Fukushima's photos of old people and their homes was very touching and made me wonder if I myself would one day end up like this – single woman that I am. Pierre-Elie de Pibrac from France captured the sheer beauty and opulence of the opera in Paris. And in the old Assembly Hall of the Kyoto Prefectural Building, Omar Victor Diop staged his own assembly with famous figures from African history who have something special in common.
I had a great weekend with my friend, and although it was raining on Saturday and there was a lot of walking involved on both days (for which I paid with leg pain throughout Sunday and Monday), I wouldn't have wanted to miss this. As a bonus, I was taken home by the Kyotographie shuttle on Sunday afternoon when my friend got on the train back to Kobe – a perfect end to the weekend!
Whether it was the exhibition or meeting with my friend, it did help me get out of my funk a little. I'm feeling rather depressed these days (sorry for not writing, and I still owe you some pictures). I'm not sure what the cause is of all this – that I have practically no work, that I see even fewer people than usual, that I don't go out much…? Atsushi Fukushima's old people come to mind again – is this just what I'll be facing 35 years from now, nothing to do but plenty of depression? Better come up with coping strategies while I still have full brain capacities…