The last couple of days it has been really cold in Kyoto: We are having around -2 degrees here in the nights, and day temperatures are only around 6 degrees. I am reluctant to leave my only heated room where the space heater runs non-stop even though I only set the temperature to 16 degrees (thanks to heavy blankets, I can manage.) It is not too cold to bicycle though, the exercise helps staying warm, I would not be doing that anymore otherwise.
From what I hear, it seems it is snowing everywhere in Japan except in Kyoto. My friend tells me there are more days with snowfall than usual in Tokyo (which is probably not fun in such a big city, think of all the traffic). And today I've read that there are 800 cars snowed in on a highway in Fukui prefecture. That's in "snow country" on the western coast of Japan where people are used to heavy snowfall, but 60 cm of snow within two days is a lot in any large city.
The situation must be really bad since the Ground Self-Defense Forces (aka: the Japanese Military) has been brought in to shovel snow and to distribute food and water to people trapped in their cars. Convenience stores nearby the highway are sold out – and no food truck in sight. I wonder for how long this is going to last.
If you believe the "Cherry Blossom Flowering Forecast Map" that has been put out a few days ago by the Japan Meteorological Corporation, not for too long. They predict a very early cherry blossom season this year, at least for the Kansai and Kanto area. For Kyoto and Osaka, cherry blossoms are said to arrive on March 26/27, a day or two earlier than usual. Up in Tokyo, the cherries should start even 6 days earlier than in average years! I know it sounds odd to the Westerner, but hanami is indeed a national pastime of the Japanese…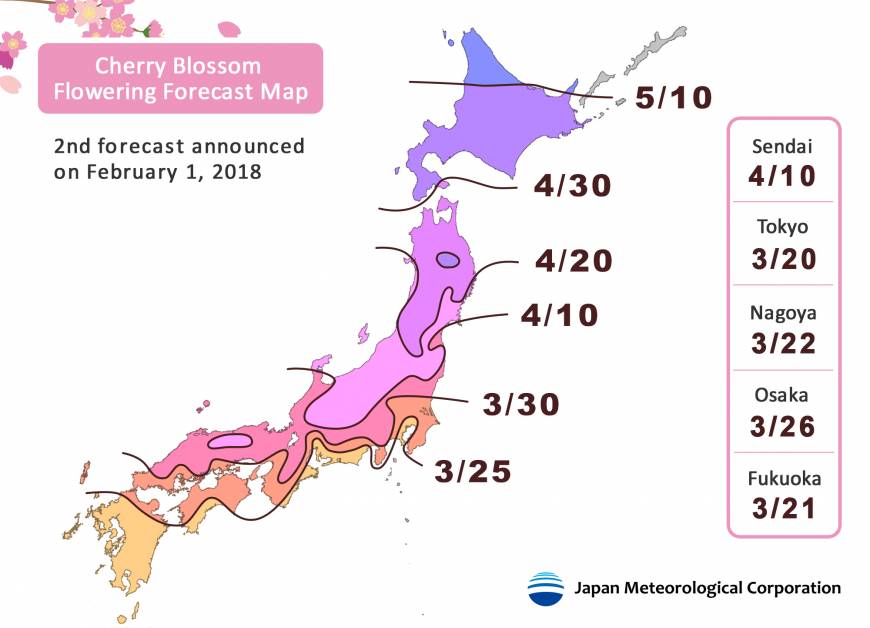 If you're interested in a detailed forecast for all the provinces in Japan, have a look at this link: https://n-kishou.com/corp/news-contents/sakura/news2018.html?lang=en