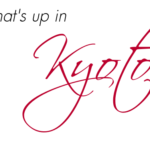 In order to avoid a rush job like last month, this time I have started way ahead of the game for the March highlight. I got a first draft of the text ready last week already, my friend translated it, and yesterday we had an appointment with the PR representative of the shrine, so we went there early in the morning.
This was the best experience with any of the shrines we had so far. We were invited inside into a wonderfully furnished (though slightly cool) meeting room. A miko shrine maiden served us green tea and senbei crackers. A few minutes later Mr. PR entered and it turned out to be one of the priests of the shrine! The meeting was great. First we talked about our mission in general and what we wanted from the shrine. And then, the conversation turned towards the shrine and towards shinto. I had so many questions, and he seemed very eager to answer them. My poor friend, she had to translate it all – and that's not easy terminology…
I'll just share one thing that the priest told us: He said that shinto wasn't really hierarchical. Although Amaterasu, the sun goddess, is often seen at the top of all the other gods, she is more at the center of them all. And if you think about it, that makes sense: Nothing on earth would work without the sun… That means, that there is not really rivalry between the gods – which is why in many shinto shrines there is a main kami, but many lesser shrines as well, where you can pray to other gods. He also said that many people believed that you shouldn't have too many omamori charms from different shrines, because the gods would fight with each other. He said that was not true – you can buy as many omamori as you like, he is obviously a great salesman too.
I could have spent all day there having my questions answered, but after some 90 minutes, my friend looked drained, so we left, not without leaving another pack of our Mannerschnitten, of course. This morning already we have received a thorough correction of our draft (in red, like in school. Very much red, actually…), and our request for photos was also granted: We got 18 lovely photos, taken by a professional photographer. One of them especially encapsulates the spirit of shinto, and I would love to post it here, were it not a bit unethical to assume permission when I don't have any to do this. You'll have to wait until March I'm afraid.