It was full moon last Friday, and because this harvest moon is considered the most beautiful in Japan, there are moon viewing parties at many shrines and temples in Kyoto. This time, my friend from Tokyo joined me for the kangetsu at Matsunoo Taisha all the way out in the Western part of Kyoto.
It started off with a fairly short religious ceremony with prayers and a dance ritual by a miko shrine maiden. These dances are meant to attract the gods to the shrine, so they can take part in the ceremony and can later enjoy the performances that are put up for the gods (and earthly visitors as well). While those can vary and include martial arts or theater for example, at Matsunoo Taisha, visitors usually are treated to concerts for moon viewing.
First, there was a shakuhachi – bamboo flute – concert. I like shakuhachi very much, and they do have a plaintive sound that is essentially built-in. Still, I felt that the music wasn't chosen well, it felt more appropriate for a slumber party, and that's not the point of moon viewing. Something more upbeat would have suited the occasion better; surely there must be fun modern pieces for shakuhachi as well.
Afterwards, a koto & shinobue duo came on stage, and the mood lightened considerably. As I've explained before, koto is a zither-like instrument, and the shinobue is also a bamboo flute, but much smaller and with a higher pitch. The combination was fun and light-hearted, exactly what my friend and I expected.
At last, the main attraction and the reason why we went all the way out to Matsunoo Taisha in the first place: Wadaiko drums. I had planned this the moment I found out that one of the Bati-Holics (lead singer Nakajima) would perform with his students, and I was not disappointed. Altogether there were five groups performing one song each, and finally, there was some power behind the music, literally.
By then, the moon had risen over the dance stage and the shrine was packed with fans and friends of the players (mostly female laypeople except for the teachers) and the atmosphere was very lively, as always when taiko are involved. The free cup of sake did help too, I'm sure. Of the five pieces, one of them stood out to both my friend and me, and we were later told by the owner of the taiko school who organizes these concerts every year that it was his wife's song (sorry, Nakajima-san).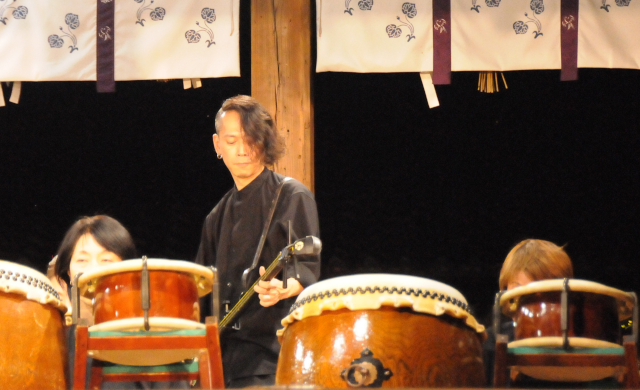 We skipped the haiku contest at the end, but it was a lovely night just as well. The weather was pleasant, and even though I only got home past 11, I didn't need the jacket I brought. My friend was also glad she came; it was her very first traditional moon viewing in a shrine. Things are indeed very different in Kyoto and Tokyo…