At work, things aren't easy during Corona times and it won't get back to "normal" soon either, if ever again. However, every now and then there's a great day between all the drab, and it makes me feel very positive for now and the future.
One of these days was last Friday, when I was invited to a press review of two exhibitions and one 5* hotel in Arashiyama.
The Saga Arashiyama Museum for Arts and Culture as well as the Fukuda Art Museum started their new exhibition on August 1. The first exhibition is all about animals, with a focus on the 12 zodiac animals as well as images of cats. Cats are suspiciously absent from the Chinese zodiac, but given all the paintings and stories and youtube videos about them, they probably got the better ending long-term.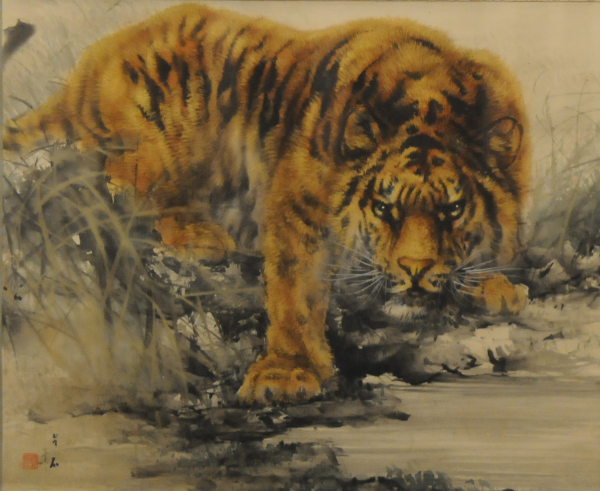 The second exhibition was about the Tokyo painters Taikan and Shunso, friends from the Meiji and Taisho era. Taikan is regarded as a 'gold medalist' of Japanese painting, famous for his depictions of Mt. Fuji. I know nothing about painting, so I can't really say much about the art, but there was a quote from Taikan that I found excellent:
Once a person is formed, painting is possible. First, you have to form the person.
I enjoyed both exhibitions and the nice things about these two museums are is that they let you take photos of most of the exhibits. The photos above are mine.
The last place I went to was the new Muni Hotel. It's a fantastic 5* hotel with only 21 rooms but with a lovely view over the river in Arashiyama. It also has all the amenities necessary for a 5* hotel including a very exclusive French (of course) restaurant. Again, I was allowed to take pictures everywhere – except for the restaurant. Why? Because on the wall opposite the entrance hangs a huge painting by Marc Chagall. I tried to find a photo online to show it here, but no luck. If you have 30000 yen to splurge on dinner, I would recommend it though!
I returned home after spending several hours in Arashiyama, with a goodie bag from the hotel's "boutique" where they sell just perfect little sweets. So yes, I had a wonderful Friday! I hope things will keep getting more interesting. 😉