As I mentioned in my last post, I fell down a craft hole last week, and one of the places I visited was the Nishijin Asagi Museum, one of the very small private museums that are often only accessible via prior reservation.
As the name suggests, this museum is dedicated to Nishijin weaving, an old Japanese handicraft where colored threads of silk are used to produce patterns in the final fabric. This technique is not unique to Japan, mind you, but Nishijin ori takes the whole thing up a notch – and has done so for centuries. Besides carefully dyed silk, the use of real gold, silver, or platinum is one of the hallmarks of Nishijin ori. This makes the coloring of the fabric last for a long time, but also prevents an obi or kimono from being washed.
Nishijin ori is known for its delicate images that are woven into the fabric, and the Asagi Museum has a large collection of fantastic pieces that look like painted. In fact, many of the pieces on display are recreations of famous paintings from the Japanese Rimpa school to Buddhist images to Western Impressionism.
It's a bit hard to talk about the topic, so I will just share some of my images. If you want to know more about the museum, or see many more pictures, here's their homepage (unfortunately only in Japanese…): http://asagi-museum.jp/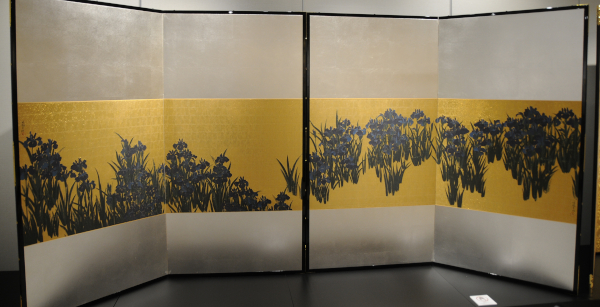 The above is a reproduction of a famous painting by Ogata Korin. These two folding screens "Irises" from the 17th century are a National Treasure and rarely exhibited; in the original they each measure 1.5 by 3.3 meters, and to be  honest, don't look quite as neat as these here.
Van Gogh's Starry Night is a famous painting, and this is a reproduction in silk fabric. It was displayed in a darkened room with only fluorescent light, hence the interesting coloring of this image.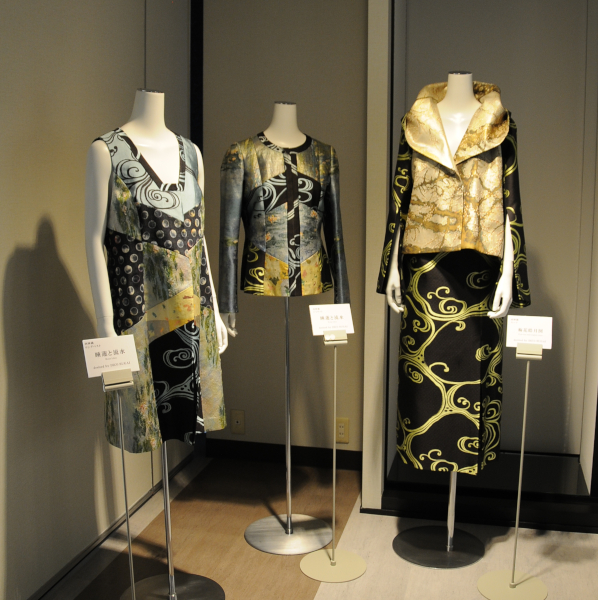 This is taking Nishijin fabric into the modern age. Pieces of different fabrics were used to make these clothes. I did not dare touch them, but I am wondering how they would feel to wear; my impression of Nishijin fabric is that it is rather stiff. It's probably okay for the jacket in the middle (I could see myself wearing this), but the dress, I'm not so sure.