Even though more and more Japanese people enjoy drinking coffee – specialty cafes are everywhere now – the staple drink is still green tea in all its forms. Come summer, the Japanese will drink it as their main refreshment when out and about, and in many restaurants, you get free green tea as a drink right away upon being seated.
The first tea seeds were imported from China back in the 9th century, and green tea was first used as medicine. Around the 12th century, aristocrats and monks picked up the habit of drinking tea, and finally everybody did it. Note that here I don't mean powdered matcha, this is a completely different animal I will talk about some other day.
There are a few different types of tea plants, but mostly, the Japanese green tea you can buy is blended from the Yabukita cultivar leaves grown in different regions in Japan. What is most important with respect to taste is whether plant grows in the shade or in the sun. Tea that is grown under protective black netting is said to taste sweeter and also has a stronger green color. This type of tea can be very expensive and is often used to make matcha in Japan.
Now, how to make green tea? First, there is the tea picking. Fresh leaves begin to come out in April/May (called: first flush, usually the most expensive tea is first flush) and what is picked is not more than the top two or three leaves of each branch. These leaves should be light-green and relatively small compared to the larger and darker leaves towards the bottom of the tea-plant.
The freshly picked leaves have barely any smell at all and as the very first (traditional) step, they are roasted at 180° C in a pan for example. This prevents the leaves from oxidation and is an important step of making green tea instead of black tea.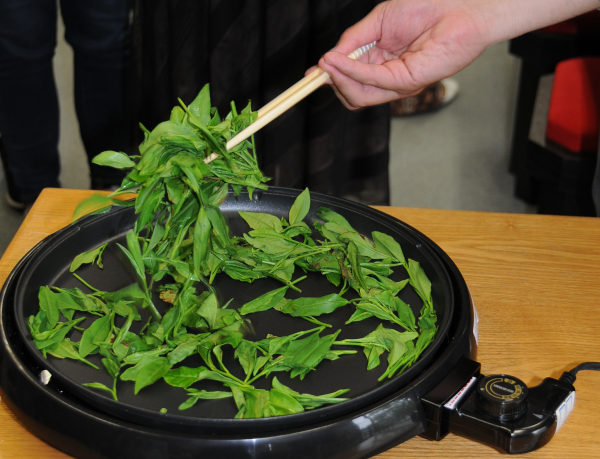 Cooling the tea leaves and reducing the heat of the pan to about 80° C, the next step is called "tea rolling". Traditionally, people would pick up the tea leaves from the pan and roll them with their hands, all the while keeping the leaves nice and hot. This rolling is meant to break up the leaves and reduce their moisture, and even for very small quantities, it can take 20 minutes and more.
After the tea rolling, the temperature is reduced to about 70° C and the tea is slowly and fully dried. The leaves have now a uniform size and they give off the typical smell of green tea. They may be rolled and dried again, but in principle, no further steps are necessary, and the tea can be drunk right away or blended into special brands.
Matcha – powdered green tea – is made from dried tea leaves as above by simply grinding them to a powder. Other than standard sencha, matcha is rather delicate and cannot be kept for too long. This is why matcha is sold in rather small quantities.
Even today, the three steps above are still done by hand for the most expensive brands. On an industrial scale, the heating of the tea leaves is mainly done by steaming in Japan. Still, overall, the procedure of making green tea is quite simple, and there are many opportunities in Japan to pick and produce your own tea.
Each year, Japan produces about 85 000 tons of green tea (exclusively). As mentioned above, there are a number of regions where green tea is produced, but most tea comes from Shizuoka prefecture. In Kyoto, tea from Uji has a special ring to it; Uji is very close to Kyoto and there, the first tea plants were grown from the seeds brought from China. Tea from Uji is mostly made into matcha that is used at Kyoto's many tea ceremonies.
Both matcha and standard green tea come in many price ranges, but I have yet to find out where the difference lies. In the meanwhile, I can definitely recommend green tea as the perfect souvenir from Japan, no matter the price.