Last weekend was the Hagi Matsuri (Bush clover Festival) at Nashinoki Shrine. Nashinoki Shrine is rather small and lies next to the Imperial Palace, and it is full of bush clovers. One thing that people do during this festival is to write short poems and tie them to the bush clovers of the shrine.
The main attraction throughout those days, however, are the performances of traditional Japanese arts. There are three performances per day, and they show different types of art – including martial arts.
I went there on Saturday afternoon with a friend, where we caught the last bit of the Iaido (sword drawing) performance. At the end, there was the cutting of reed mats, something that seems to be surprisingly difficult.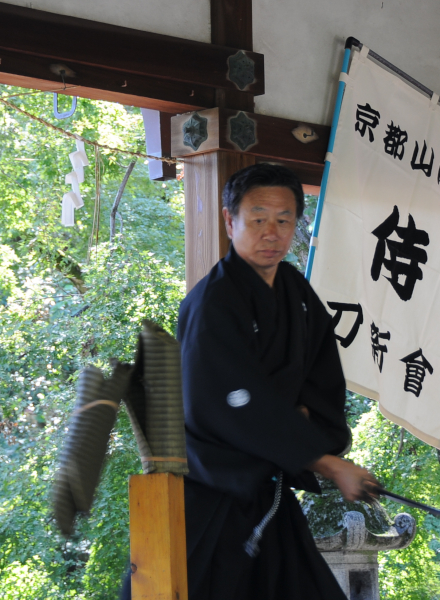 Then we took part in a tea ceremony. It must have been my third or fourth, and still, I don't know how the tea is prepared! There are so many other things I need to pay attention to during the ceremony – it is pretty hard to be a guest even.
I went again on Sunday morning for a kyogen performance where I understood a bit here and there, but not enough to get the whole picture. It was funny though, the facial expressions alone could make you laugh.
Afterwards there was a short shakuhachi concert. I love the tone of the bamboo flute, and the first song that all three players did together, was my favourite. I am tempted to learn it myself eventually… But maybe I should finish my soroban degree first!
I did not return on Monday, the last day, so I missed the Japanese dance and the archery. However, it was fun to watch so many different traditional arts in such a short time span.