Yesterday was the second yoiyama, the day (and night) before the second grand parade of Gion Matsuri. As I have mentioned last week, it was a very special yoiyama for me: I was invited to volunteer at the Ofunehoko, the large boat-shaped float that always ends the Ato Matsuri parade.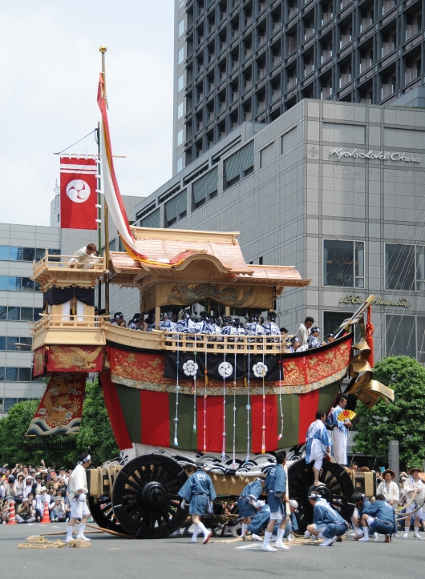 Now you're probably wondering how I, as a foreigner (with very bad Japanese to boot) can help out at one of the most important Japanese festivals! Well… it was all really by accident… I am a member of the Miyakogusa, a volunteer organisation of Kyoto where people of all ages (mostly women of a certain age though) do a variety of activities: From visiting shrines and temples, to cleaning up the Imperial gardens, to presentations on Kyoto's history, this is all volunteer driven and organised. How I got to be a member of this is an even more unbelievable story, I'll tell it some other time.
Anyway, the leader of the Miyakogusa is a very energetic woman (!) and she seems to have many sundry connections and know everybody, including the people from the Ofunehoko, which has been restored only a few years ago. About a month ago or so I received a phone call from her where she invited me to take part this year. Of course, when Gion Matsuri calls, you don't say no. And thus I ended up working yesterday, selling chimaki charms and books and little tenugui hand towels…
It was a very interesting experience. Two weeks ago there was an introductory meeting where we were explained the history of the Ofunehoko, little details to its size, weight, number of men to pull it… Then there were the practical things: How much was each item, where would we get lunch, where is a toilet for us volunteers… Everything was planned to the last dotted i – including what to say when selling something and asking for the money – actually, we were "giving" things to people, since "selling" is a dirty word when it comes to items blessed by the gods…
The level of detail that went into the planning made the whole thing yesterday run very smoothly. When I arrived at the spot, I was set up with two Japanese into one team – we were to do everything together and change stations regularly. There were three stations for us: The small northern and big southern tent, where we sold the chimaki and other things as well as entrance tickets; plus the entrance to the house, from where you could enter the Ofunehoko and take a look at the street from above.
Mostly the work was easy, there were hardly any foreigners requiring assistance, and the Japanese I talked to were easy to satisfy. Part of the smooth ride was surely that I took the morning shift from 10:00 to 16:00, I could see a sharp increase of visitors towards the end of my shift. Then especially the entrance to the house got busy: We were to take the shoes of each visitor, clip a number onto them and hand an identical number to them, so we could find their shoes on returning and give them back. The later the afternoon, the more people wanted to go upstairs, and even though they were only admitted in groups of 10, it sometimes became quite overwhelming when just as many came down the stairs also.
Anyway, I had great fun and I made a couple of new friends. Some of my old friends visited me at work as well, even though it was very hot. Unfortunately, we were not allowed to take pictures from the inside of the stalls, it would have been an interesting and rather unique view on Gion Matsuri! After 6 hours of standing only (there were seats but not enough for everybody) I was exhausted! Not so much from the heat – we had enough free drinks and cold patches to stick underneath your clothing – but because my feet hurt so much…
Fun incident: All of us volunteers had to wear yukata. It took me about 45 minutes to get dressed; first the spanx and the towels (long story), then the yukata itself, and then I needed 20 minutes just to put on the obi! By the time I was done, I was soaked in sweat – definitely a good start for the day! After all that work, I was mightily proud of myself, but obviously it was not good enough still. At some point, one of our yukata-wearing customers looked at me disapprovingly and said: Turn around! She then proceeded to pull hard on the back of my yukata – the part that reaches down below the obi, and after a few minutes, she was satisfied: the pulling had produced a better neckline in front – and in fact, other women passing by later did comment on this! Only in Japan…