Have I complained about the heat already this year? It's hot. Very hot, and as you can see, it will stay like this for at least another week: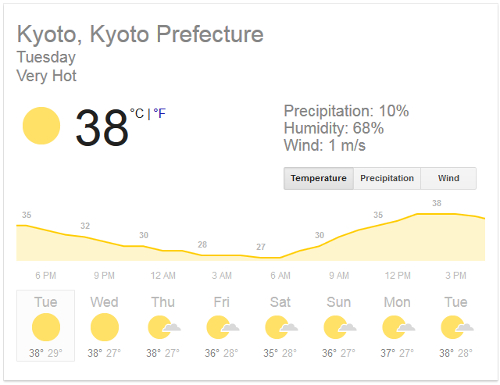 Well, this is quite usual around the time of Gion Matsuri. In fact, during the Gion Ato Matsuri, where the highlight will be next Tuesday, there always seems to be a peak in the heat wave. Speaking of Gion Matsuri: I went last night to the yoiyama, where the inner city changes into a party zone. This year, I wanted to see the kagura – a sort of sacred dance/theatre – performed in Yasaka Shrine. I was not disappointed, even though I came a bit late and had to watch from way far back. Kagura is a bit like Noh when it comes to the masks and costumes, but much more dynamic. I think half of the plays I watched consisted of people mock-fighting each other with swords, and dancing around each other for the main part of the play. And that at more than 30 degrees – the actors must have been exhausted at the end!
I certainly was, so when the performance ended at about 9:30, I decided not to go further to the inner city. Crowds are not something I enjoy, and there were enough food stalls at Yasaka Shrine already to eat my fill. The only thing missing were the baby kasutera that I love so much, but there will be another opportunity to get those, I'm sure.