Yesterday, I was up and out early because I wanted to check out another location where aikido training is held, near Kyoto station. The training started at 9 am, but because the bus did not go quite as far as I had expected, I had to walk farther than planned, and thus came a bit too late, which I found embarrassing… It was lovely watching the training though, and I think I will join this group; they all seem very nice (I have hardly ever met unpleasant people on the mat) and what I can judge from only watching, they are quite good as well. Interestingly, the whole atmosphere seems very relaxed, something I have never encountered in any of the Japanese dojo I visited before.
Anyway, after watching the training I walked around in the area. Toji temple is close by, a famous Buddhist temple sporting a large and famous pagoda, a bit south-west of Kyoto station. It is a large temple complex, with several large halls, the pagoda, an additional museum… One of the halls had an exhibition of large cloths painted (or dyed?) in dark blue – I think it was indigo, but I am not entirely sure. They were beautiful, and probably very expensive – there were some rather exquisite kimono to be seen, but none of them with a price tag. Other things were for sale, small fans and purses, for example, but I did not buy anything.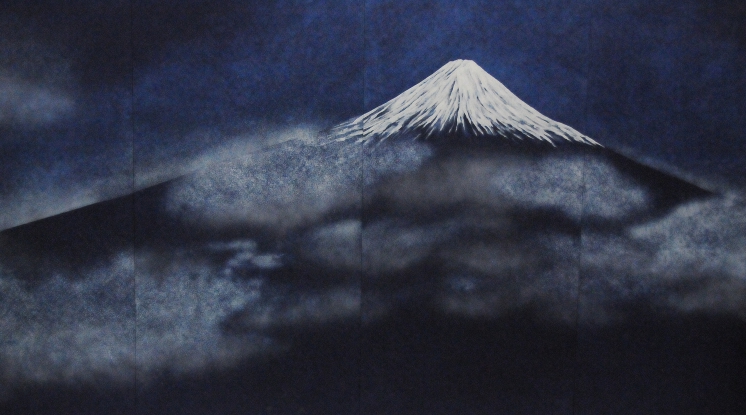 Afterwards, I went to the station and, because I was looking for a Muji store in the nearby Aeon mall (which I did not find anyway), I had a belated lunch there – in a Korean restaurant. I enjoyed it very much; unfortunately the custom of serving unlimited side-dishes is observed in Korea only, which, given that my body cannot tolerate kimchi very well, was probably a good thing after all.
I then took a bus to City Hall, went to the Muji store there, did my shopping, and then walked home. After more than six hours on my feet, I was rather tired, but… we had a builder over to fix one of the rooms, which he did all afternoon yesterday, and all day today as well – and he did it rather noisily… I took some amazing pictures of the interior workings of the house and its roof by the way – I'll share them with you in a few days, promised!