Sorry for not writing yesterday, I was out all afternoon and came home soaking wet after dark. But since it's a holiday today (Sports Day), I had some time for a recap. As you may know, thanks to WUIK, I count as "member of the press" and so I got a preview for the special exhibition "All About Toji" that started today. The preview lasted four hours, and it was worth every second, despite all the rain. Below are my impressions and some photos I took yesterday.
From 794, Toji, the "Western Temple" and its 5-story pagoda marked the entrance to Heian-kyo, the then-new capital of Japan. Today it still stands (unlike its sister temple to the east) just south of Kyoto station, and this month, it celebrates the 1200 anniversary of Shingon Buddhism.
The monk Kukai, after his death revered as Kobo Daishi, was given Toji temple in 823 and expanded it greatly. He also oversaw the construction of several buildings, among them the pagoda that is now a landmark of Kyoto. Although there are several large temples in Kyoto affiliated to Shingon Buddhism, Toji remains the headquarters of Shingon Buddhism to this day.
Sadly, most of the temple's original buildings were destroyed one time or another by earthquakes, typhoons, or fires. They have been rebuilt, however, sometimes even according to old plans, and many now count among Japan's National Treasures.
The preview started out with a short press conference in a building adjacent to the abbot's quarters. While it looks fairly recent outside and has a lovely garden, I was taken by the modern paintings on top of the fusuma. They reminded me of Insho Domoto, but were actually by a contemporary artist called Taisuke Hamada.
We were then free to walk the temple grounds. First stop: The Miedo, aka Daishi-in, which was originally the residence of Kobo Daishi, even though the current building is from 1390. Instead of a Buddha, it has a statue of Kobo Daishi; people come and worship him all the same.
The Homotsukan temple museum is home to temple treasures. This time, letters from Kukai are on display, as well as letters from emperors to the temple and some treasured mandala. For me, however, the most spectacular exhibit was on the second floor: an enormous 6m-tall statue of Kannon, Goddess of Mercy, with her 1000 arms. The statue was once housed in another building, but was greatly damaged when a fire destroyed the hall. It took years to reconstruct her, and one can only imagine how impressive it must have looked like before the fire.
The sub-temple Kanchin-in was home to the temple's guest house, built in 1359. It is a very large complex with interlocking building and boasts wall paintings by one of its famous guests: Miyamoto Musashi. The eagle painting shows its age, but the bamboo still looks fresh. I liked the little gardens that are fit between the buildings, and in a more modern part that has several tearooms, there were more paintings by Taisuke Hamada, this time depicting seasonal scenes.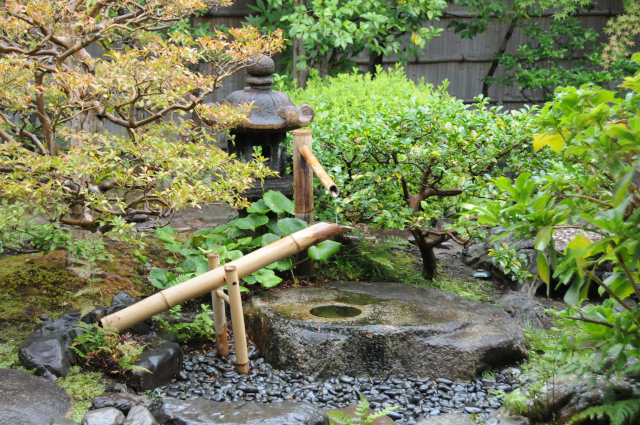 The main part of Toji Temple consists of three buildings in a large garden: The Kodo Lecture Hall was established by Kobo Daishi in 825; the current building is from 1491. Inside is an unusual three-dimensional mandala with 20 Buddhist statues, also created by Kobo Daishi and all centred around a seated Dainichi Nyorai. Personally, I prefer the statues of the so-called Wisdom Kings, they are much more dynamic in expression and posture than the serene seated Buddhas.
Three Buddhas make up the entire interior furnishings of the Kondo Main Hall, just south of the Kodo, which was commissioned by Hideyori in 1603. It shows the distinct architectural style of the Momoyama period.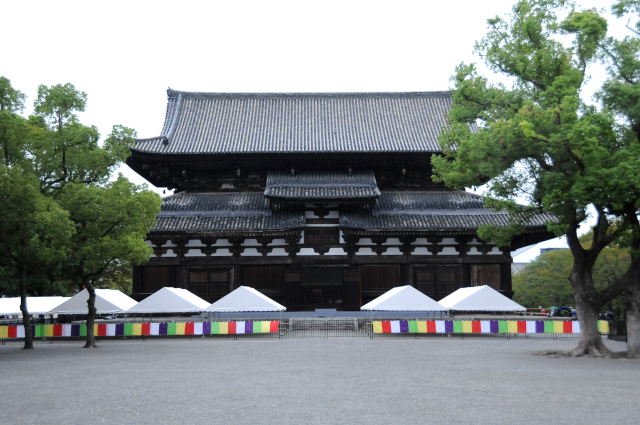 The 5-storied pagoda is the symbol of Toji Temple and one of Kyoto's landmarks. The current one is from 1644, built under the 3rd Tokugawa Shogun, Iemitsu. Its shock-absorbing construction is said to have inspired similar designs used in Tokyo's Skytree. On the ground floor, are four seated Buddha statues, each facing a different cardinal direction. The interior of the pagoda is covered in colourful patterns and paintings, in stark contrast to its dark and sombre exterior. I wonder what the other floors may have inside, but these are off limits at all times.
Finally, there were two more exhibitions of beautiful close-up photographs of statues and buildings of Toji temple which I greatly admired – I wish I could take photos like these. There were also two brand-new mandalas by a contemporary artist, which, to be honest, I didn't find that good, but they were dedicated to the temple on this day.
For me, the best things were the Kannon statue, the 3D mandala and the interior of the pagoda as well as Kanchiin House as a whole. It was my first time entering the buildings of Toji Temple and I can wholeheartedly recommend it!
If you're in Kyoto this October, do take the time to visit this exhibition "All About Toji" where you can see all this with a single ticket and a special audio guide in English.