Tokyo Ueno Station
Miri Yu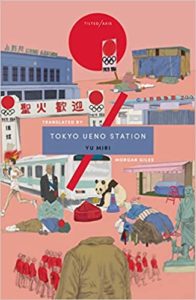 Just outside Ueno Station, where the trains bound for northern Japan leave, lies Ueno Park, one of the largest parks in Tokyo. It attracts lots of homeless people, and Kazu is one of them. He talks about his life in the park, how to build a house from tarps and cardboard that is easy to dismantle. How to make a little money by selling cans and used magazines. How, thanks to local restaurants leaving out leftovers, food is a minor problem. And how to make friends among the homeless without revealing too much about yourself.
Kazu is one of many people from the north of Japan who came to Tokyo to build the infrastructure for the 1964 Tokyo Olympics. And they stayed on, always in search for jobs, so they could send money to their wives and children at home. Kazu also has a family, and he did return to them upon retirement. But when his wife died unexpectedly, he chose not to be a burden to his daughter and granddaughter, and so he returned to the place where he spent most of his life in: Tokyo. But life isn't easy in Ueno Park, and eventually, there is only one way out…
If I had to summarize this book in one word, it would be "heartbreaking". What got to me most, interestingly, wasn't so much the descriptions of Kazu's homeless life in the park, but of his life before that. When his children were small, he left for Tokyo to earn money; the price his family pays is his constant absence. He is not there to see his children grow up, and when his son dies at 21, Kazu cannot come to terms with his loss.
Miri Yu does an exceptional job portraying Kazu and the other homeless people in the park with compassion, and she draws a vivid picture of those who live on the edge of society. In an afterword, she describes the research that has gone into this novel. She also relates some remarkable acts of callousness after the Tohoku earthquake, which I wouldn't have thought possible from the ever so polite Japanese.
Miri Yu, born in 1968, is one of Japan's most critically acclaimed writers. In 1997, she received the Akutagawa Prize for the short story "Family Cinema". Being of Korean descent, she knows from experience what it means to be an outcast from society. After the Tohoku earthquake, she moved to Fukushima in 2015, where she owns a bookshop.
For a heartbreaking glimpse into the life of the homeless of Japan, get this book on amazon.