When I wrote about the Dokkodo the other Sunday, I found out that I never wrote about famous samurai and ronin, Miyamoto Musashi. Well, here it goes!
Born in 1584 in the middle of the Sengoku period, young Musashi learnt fighting from his father, a lower-class samurai. Although he would go on to become Japan's greatest swordsman, it is very hard to separate the facts of his life from the legends that were woven around him already during his lifetime.
It is true that he fought – and won – his very first duel at the age of 13, and it is said that 3 years later, in 1600, he fought in the Battle of Sekigahara which helped establish the Tokugawa Shogunate. The experience set him to wander around the country to study swordsmanship and to challenge fighters of various styles.
In 1604, Musashi arrived in Kyoto and challenged the local Yoshioka clan, one of the top schools of swordsmanship at the time. He fought with them three times, the best-known is the final fight at the pine at Ichijo street. A descendant of that very pine still marks the spot where Musashi wiped out the whole clan and effectively put an end to the school. Further up from the pine lies Hachidaira Shrine with a nice statue of Musashi, and all the way up the mountain, at Tanukidani Fudoin-san Temple, is a waterfall, where it is said that Musashi has performed misogi, ritual ablutions, before the fight.
In 1612, at the age of 28, when he was at the height of his powers, Musashi defeated the equally famous swordsman Sasaki Kojiro in a well-publicised fight on a beach and from there went on to win 61 duels in total, more than any other swordsman in Japanese history.
But Musashi was more than just an excellent fighter. He took great care to cultivate other Japanese arts like calligraphy and ink painting, and he became an early adept of the new style of tea ceremony developed by Sen-no-Rikyu.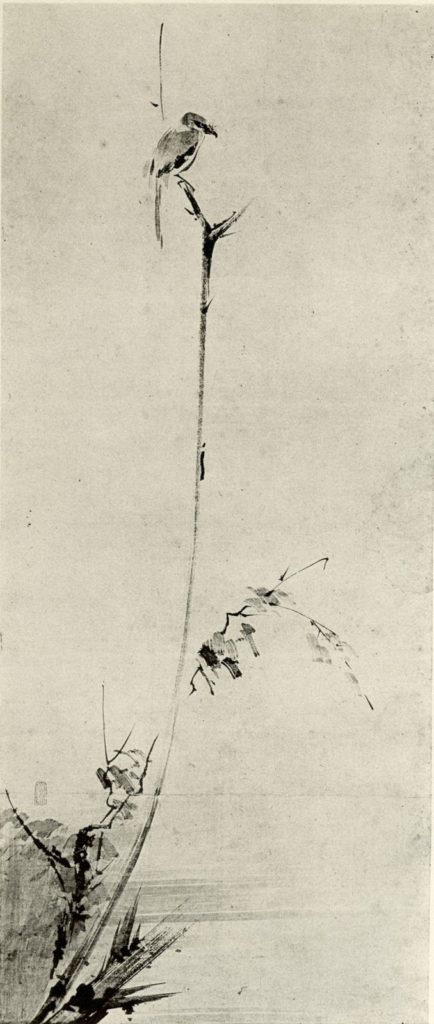 While some of his works survive, this part of his life remains mostly in the dark. He is said to have met illustrious figures like spiritual leader Takuan Soho, renowned artist Hon'ami Koetsu and famous courtesan Yoshino Tayu, but little proof survived. It is also said that he fathered a son, possibly with a courtesan, but there is no proof of that either. What is known is that he has adopted several sons, who became swordsmen in their own right.
In his later life, Musashi established the Niten-Ichiryu school of swordsmanship, which is famous for its use of two swords, and which still exists to this day.
Just a few days before his death in 1645, at the age of 61, Musashi handed his favourite student the "Book of Five Rings" on martial arts and the "Dokkōdō", 21 precepts expressing his views on life in general. Both keep inspiring readers from all over the world to this day, and they have established Musashi's name as thinker and philosopher.
I already talked about the great book by Eiji Yoshikawa, who weaves a story out of legend and fact that leads up to Musashi's duel with Kojiro Sasaki. I can still recommend it if you want to delve a bit further into Musashi's life (and have a bit of fun while doing so).