A few weeks ago, I visited the Ikebana Spring Exhibition at the Ikenobo Headquarters in Kyoto. On no fewer than 8 floors, there were hundreds of flower arrangements, so many that at the end, they all blurred together. I wish I had done a bit of research earlier, but better late than never. The photos below show flower arrangements from that exhibition, I'm afraid I chose not overly traditional ones (because they are more fun).
The Ikenobo is the oldest school of flower arrangement in Japan. It dates back to 8th century Kyoto, and its headquarters are still at the same spot, at Rokkaku-do temple in the heart of Kyoto. Rokkaku-do itself was founded by Shotoku Taishi in 587, long before the capital was moved here. The temple's priests lived in a hut (bo) at a nearby pond (ike), and over time, the people began to call them ike-no-bo. The priests made flower offerings at the temple every day.
So, Ikebana has its roots in such flower offerings at Buddhist altars, and as such, it is an import from India and China. However, at first, these offerings took the simple form of putting flowers into a vase in front of the Buddha, whereas Japanese ikebana over time developed into a style with dozens of formal rules.
These rules crystallized during the Muromachi period into tatehana, a simple style that presented flowers as they occurred in nature, meaning "standing up". At this time, flower arrangements were quite large and therefore only shown in temples and the homes of wealthy aristocrats.
The term ikebana – it means arranging flowers or living flowers – can be traced back to the 15th century, however the oldest book on the subject, the Sendensho is dated 1445 and already gives very detailed instructions for arrangements for special occasions.
In the first half of the 16th century, Senno Ikenobo wrote another book on the art, called Kadensho. There, he mentions the importance of finding the inner beauty of plants through the arrangement, instead of merely appreciating beautiful flowers. At this time, the style of rikka became popular, and Senno Ikenobo was not only its main artist, he also formalized the style as a combination of fixed elements that needed to be present in every arrangement. In this manner, virtually everybody could produce pleasing arrangements, but on the other hand, artistic expression was rather limited.
In the 18th century, a simpler style was created that used a reduced number of the parts in a rikka arrangement. This style is called seika or shoka (pure flowers), and its significantly smaller end results found their way into private homes of fairly wealthy but common people as well.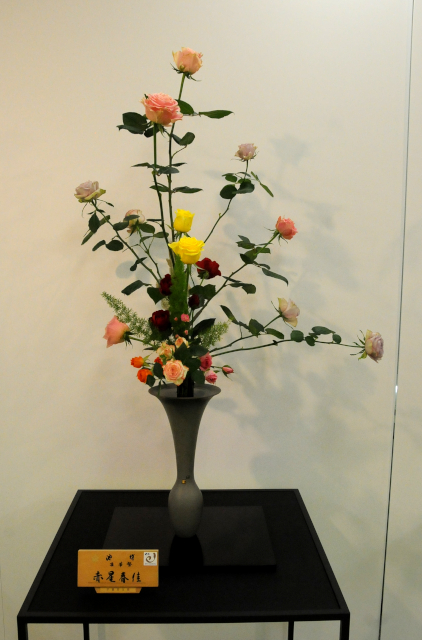 In the Meiji era, Japanese traditions lost their appeal under the influences of new art and lifestyle introduced from the West. However, through new styles like the nagairebana (thrown-in flowers) and moribana (piled-up flowers), as well as permitting Western flowers in the arrangements, ikebana saw a renaissance. This was reinforced when ikebana, together with tea ceremony and calligraphy, was seen as essential in the education of women, especially of the upper classes.
So far, the last innovation in ikebana was the introduction of the jiyuka style (free flowers) after WWII. As the name suggests, there are no more rules and the focus lies on creativity, so much so, that even non-flower materials are permitted.
Over time, dozens of new ikebana schools have been formed, all with slightly different rules for their arrangements and a varying emphasis on formality and creativity, respectively. Today, ikebana is taught worldwide, but nowhere else has it such a recognition as in Japan. In Kyoto, the birthplace of ikebana, the Ikenobo school operates an entire college dedicated to it.