There must be something in the air in Kyoto that is especially conducive to artists. Clearly, while Kyoto was the capital of Japan, this was the place to be if you wanted to make a living as an artist, or even as a craftsperson. But even today, Kyoto is a hub of Japan's art world and many people with strong ties to the city become leaders in their fields, be it ukiyo-e, paintings, calligraphy, ceramics etc.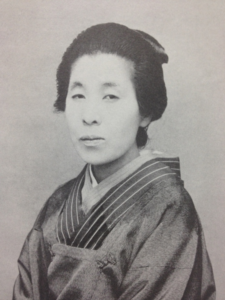 One of the most famous Japanese artists – and a woman to boot – is Uemura Shoen (1875 – 1949). She stands out as one of the few female painters from the Meiji/Taisho/Showa eras of Japan who rose not only to national but even to international fame during her lifetime.
When she was born in 1875 as the second daughter of a tea merchant in Kyoto's Shimogyoku district, she was named Tsune. Her father had died two months before her birth, so she grew up in a household dominated by her mother and aunts. Tsune's mother ran a popular teashop called "Chikiri-ya" which attracted affluent clients purchasing tea and other items for tea ceremony.
Little Tsune loved to draw from an early age and impressed her family so much with her talent that she was sent to the Kyoto Prefectural Art School to study when she was only 12 years old. Just three years later, her painting The Beauty of Four Seasons was sent to an art exhibition and was promptly bought by Prince Arthur, the third son of Queen Victoria, who was visiting Japan at that time. From one day to another, the young girl now known as Uemura Shoen became a celebrity.
At that time, this was highly unusual. Even though many women, especially of the higher classes, learned how to paint (mostly in the traditional Japanese style), they practised the art as a pastime rather than as a profession. While other professional female painters did exist at the time (for example, Ito Shoba and Kajiwara Hisako), most of Japan's art scene was dominated by men, in particular outside of Tokyo. Uemura's international success – a version of The Beauty of Four Seasons won an award at the 1893 World Exposition in Chicago – was unprecedented.
Uemura Shoen studied under several teachers (Suzuki Shonen who gave her the first kanji of his name, Kono Bairei and Takeuchi Seiho) and in her work integrated the traditional Maruyama Shijo, Kano, and Sesshu schools of painting. She also drew influences from ukiyo-e and Chinese landscape paintings.
The majority of Uemura Shoen's works are so-called bijin-ga, paintings of beautiful women, doubtlessly influenced by all the women who visited her mother's teashop. Their bodies often take up most of the painting and draw the focus towards the intricate details of their kimono and hair ornaments, painted with unparalleled delicacy. Many of her works were inspired by Noh theater. Even though women are not allowed to perform, Uemura's paintings of Noh show women in classical dance poses and with a strong and determined mien.
When Uemura was 27 and unmarried, she gave birth to a son, Uemura Shoko, who later became a painter himself. She raised him and his sister, born a few years later, as a single mother, and never revealed the name of their father. It is speculated, however, that it may have been her teacher, Suzuki Shonen. Not only did he allow her to use the first character of his name in her own pseudonym, but he also accelerated her education and let her learn and practice the painting of figures in his own atelier instead of at school. Already at that time, people suspected an affair between the two, and her reputation took a downwards turn. However, in the long run, her exceptional talent silenced all critics, whether of her work or her private conduct.
In her later years, Uemura Shoen's status as outstanding female painter was officially recognized. She became the pioneer in numerous top-ranking awards: first female painter accepted in the Imperial Art Academy (1941), second female court artist to the Imperial Household Agency (1944), and first woman to receive the Order of Culture (1948). Her painting Jo no mai of a female Noh dancer was the first painting by a Japanese woman rated as Important Cultural Propery. Uemura Shoen died in 1949, aged 74, still painting until the very end.
Uemura Shoen was a very prolific painter. To see a wide range of her pieces, you don't have to go far (from Kyoto, that is): The Shohaku Art Museum in Nara focuses on her works, as well as those of her son and grandson.