A few weeks ago was Design Week Kyoto, a period of 10 days each February, where art studios and small factories producing Kyoto crafts are open to the public. It's an eclectic mix of things like textiles, paper, ceramics and bamboo crafts, but also swordsmiths, a producer of artificial limbs, and a firm dealing with traditional architecture for shrines and temples are on the list of places you can visit. And some even offer short classes to learn the very basics of a craft.
Personally, I have been interested in bamboo weaving, that is, making baskets, for a while. So, together with a friend, I took the opportunity to produce one at the bamboo store Takenoko that took part in Design Week. Here's what I started out with and what I was supposed to have produced after 90 minutes of work or so (and I did pretty well, actually):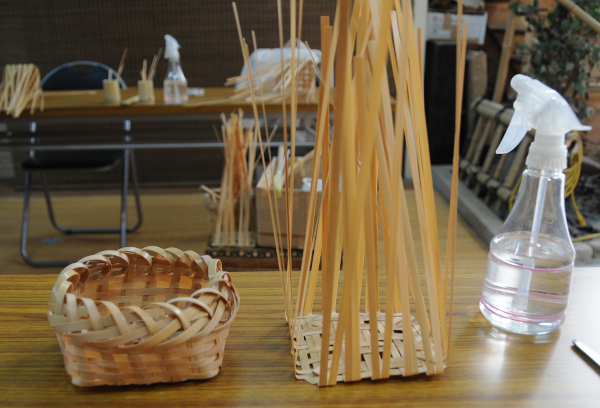 This is the simplest basket of them all because the top is woven too instead of cut and as you can see, the bottom, which is the most difficult part, was already prepared for us. The bamboo pieces had all been prepared and they had to be rather wet to make them easy to use. I was surprised at the change of color of the material. Wet, the bamboo was almost orange, but now that it is thorougly dry, it is a light beige only.
Overall, the weaving itself was very simple to do, but at the same time, it is hard to be precise. Of course, like with everything else, it is a question of time and routine to make good pieces, but it must take years of effort to produce some of the exquisite crafts I saw in the shop of the Takenoko.
Anyway, I would love to pursue this is a hobby, but sadly, the shop doesn't offer classes beyond this one. Which means that I'll have to look for a good teacher elsewhere in Kyoto because I don't think this one is easy to learn on your own. Oh my, so many interesting things to learn!