Japan is moving into a new era – quite literally – with the abdication of the current emperor on April 30th and the ascension to the throne of his son on May 1st. The preparations for this enormous event must have started a long time ago, but most of them are done in private, so that the average Japanese is not aware of all that's going on behind the scenes.
Yesterday, however, the first big official event took place: The reveal of the new era (gengo) name. Each reign of a Japanese emperor is associated with an era name, and while an emperor is never called by his given name during his lifetime, his era name will be used to refer to him when he is dead. Since the Meiji Restoration in 1868, there were four eras: Meiji (1868 – 1912), Taisho (1912 – 1925), Showa (1925 – 1989) and Heisei, the current one. Before the Meiji Restoration, the era name could change more frequently. Often, a new era was begun to give the nation a symbolic fresh start, after a natural disaster, or a number of deaths in the imperial family, for example.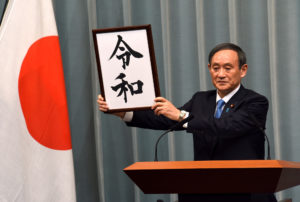 Anyway, the new era that we in Japan will live in from May 1st will be called Reiwa. The two kanji were taken from the Manyoshu, one of the oldest collections of Japanese poetry, compiled in the second half of the eight century. Like many characters, these kanji have different meaning. The first one – rei – has a meaning of to rule, to order, but can also mean elegant, fine, beautiful, or auspicious. The second character can mean peace, calmness, harmony.
There are two interesting articles on how Japanese era names are chosen in the modern era.
This one is about the forthcoming one, Reiwa:
http://www.asahi.com/ajw/articles/AJ201904020020.html
And this is an interview with one of the people sitting on the committee for the current one, Heisei:
https://www3.nhk.or.jp/nhkworld/nhknewsline/backstories/insiderexplains/
It is interesting to note that the term Reiwa itself has no meaning as a word, it is more a concept that is open to some interpretation (just like Heisei, by the way). Prime Minister Abe explained that Reiwa signifies "a culture being born and nurtured by people coming together beautifully." We will see how this will work out. For now, however, the Japanese seem to be pleased with the new era name. Friends have told me that they sound is good. Let's hope the era itself will live up to the "good sound".