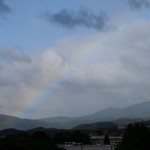 Since so many of you have asked: I'm fine, don't worry!
Even though it rained for two weeks straight here in Kyoto city, the only thing affected here were the walking paths on the river banks, which had to be closed throughout. In the western part of Kyoto city, Arashiyama, there were a few mudslides, but nothing serious. Four people did die in more rural areas of Kyoto province, though.
The most affected areas were in Kyushu and around Hiroshima. Even today, there are places nobody could get to so far, so there is serious concern that the death toll will rise beyond the current 150 people or so. Apparently this was the worst rainfall in decades throughout the country, and efforts to clean up will take a long time, even though there are 75.000 people helping right now.
In Kyoto city, the rain has stopped on Sunday already; literally over night, just like somebody closed a faucet. It is now time to get hot and humid all over Japan, but I hope that people in southern Honshu, Kyushu and Shikoku will be safe.