Dainenbutsu Kyogen are short theatre performances that were originally meant to teach Buddhism to the general population of Japan. In Kyoto, there are three major such kyogen performances: Mibu Kyogen (in Mibudera Temple), Senbon Enmado Kyogen (in Injo-ji Temple) and Saga Dainenbutsu Kyogen.
The latter ones, shown in spring and autumn in Arashiyama's Seiryo-ji Temple, originate in a ceremonial event called Dainenbutsu-e that was initiated by the monk Engaku in 1279. In modern times, their history was a bit rocky: In the 1960s, these plays went through a crisis when the number of actors declined and performances had to be cancelled. In 1975, volunteers founded the Saga Dainenbutsu Kyogen Hozonkai organisation to train new actors and keep the art alive through regular performances. In 1986, the Saga Dainenbutsu Kyogen were designated as a Japanese Important Intangible Folk Cultural Property, and today, the performances have become an integral part of Kyoto's cultural calendar.
The Saga Dainenbutsu Kyogen are pantomimes, where a set of (male) actors dressed as certain stereotypes (like the young woman or man, the monk, the servant, etc.) breathe life into the story that is performed on a simple stage with barely any stage design and only a few necessary props. The actors – called kyogen kata – share the stage with musicians – hayashi kata – who play a special, 9-hole yokobue flute, kane bell, and small taiko drum. There are only two basic patterns of alternating the bell and drum, it is more of a rhythm than a melody, and is played throughout the performance. Also on stage is a supervisor – koken – who may help the actors with props etc.
This is necessary, because in the Saga Dainenbutsu Kyogen, all actors wear full face masks in the style of Noh masks, a tradition going back to the Muromachi era (14th – 16th century). These wooden masks have only very small eye holes through which the actors can see, which makes finding small props or immediately reacting to another actor quite challenging. Thus, the actors sometimes clap their hands or stomp their feet as a sign for the others who may wait at the edge of the stage for their next action that the play has progressed to a certain point. It is possible that two unrelated scenes that are taking place at the same time but in different places, are acted out simultaneously on stage.
The Saga Dainenbutsu Kyogen has a repertoire of about 20 plays. Not all kyogen are funny, or "soft" Yawarakamon plays, about half of them are more serious or "hard" Katamon that have their origin in Noh. Up to three plays may be grouped together and performed in one afternoon, usually the focus lies on the funny Yawakaramon though.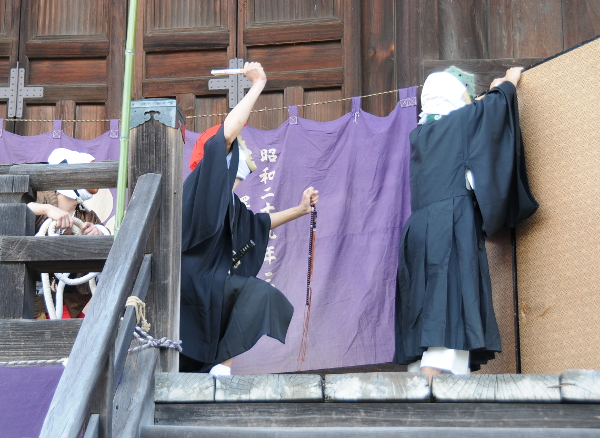 The atmosphere around these plays – whether soft or hard – is very relaxed, it is an outdoor performance in spring or autumn, when the temperatures are pleasant. Because the plays were developed to teach laypeople about Buddhism and they work without any speech, the stories are very easy to understand and transcend time and culture. Universally funny, they are definitely worth watching!