Audition
Ryu Murakami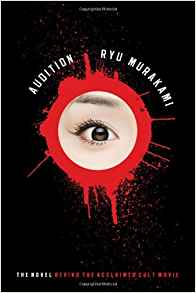 It's been six years since Ryoko's death, but Aoyama is not even dreaming of dating, lest marrying again. Only when his teenage son, Shige, starts urging him to find a new wife, is he willing to give it a try.
When Aoyama tells his friend Yoshikawa about his plans, film director Yoshikawa is all ears and sets up an audition to find his friend not just any, but the perfect wife. The whole scheme is skillfully disguised as the well-publicized search for the main female character in an upcoming movie. Of the thousands of applicants, young Asami captures Aoyama's heart at first sight, and they soon begin dating, despite Yoshikawa's warnings, who feels that there is something wrong about her.
And indeed, at first, everything seems perfect, but how far is Asami – in her desire for love, undivided one, that is – willing to go?
I have read a few of Ryu Murakami's novels, and this one is an easy introduction to his works. The book starts out with a desperate man trying to find love again – and succeeding quickly, to his great delight. Soon, however, a feeling of danger is creeping into the story, and the finale – very typical for Ryu Murakami – is drowning in blood…
Ryu Murakami is the enfant terrible of Japanese authors. Born in 1952, he started his artistic career as a member of a number of bands, before he moved on to film and writing books. His first book was written when he was still in highschool, immediately winning him the acclaimed Akutagawa Prize for fiction. Most of his works center around the dark side of humanity, they describe sex, violence, drug use, and the abysses of the human soul in general very graphically, and are not for the faint of heart.
Get this book from amazon – if you dare!