A New Year has begun, and again, I have tried yet a few more of the hundreds of traditions that surround this time of the year in Japan.
Unfortunately, I have been rather sick since Christmas, so instead of going out for the joya-no-kane ringing of the temple bells, I stayed in bed. I could hear the bells from there, however, and even so, it gives a wonderfully spiritual feeling to the quiet night.
I tried two of the food related Japanese New Year traditions though: On New Year's Eve, I ate what is called toshi-koshi-soba, year crossing soba. Soba are buckwheat noodles, and depending on who you ask, you will get a different version of their significance in the dish: The noodles are long and symbolise a long life; but they are also easy to cut, so they make you let go of the hardships of the past year; and since the buckwheat plant is very hardy, this is a representation of strength and resilience (something I can definitely use right now).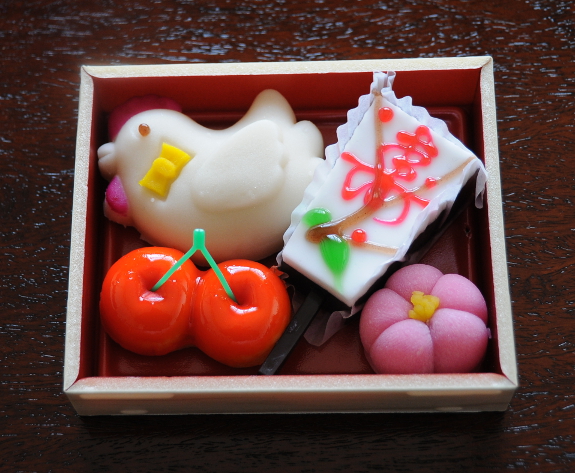 For New Year's Day, I had bought not a full Osechi menu, but only the sweets that come with it. The rooster is a symbol of this year, and the long flat thing is a paddle that's used for hanetsuki, a type of old Japanese shuttlecock I have written about before. Interestingly, only half of the pieces had anko in it – I was very happy about that!
Besides that, I bought a rooster for my home. Not a real one of course, but a small ceramic statue that is usually displayed near the entrance. Since I don't have space there however, I put it in my living room – one of the few things that are decorative there at the moment. It is my first such zodiac animal and according to a friend, you should not reuse an old statue (the zodiac repeats itself every 12 years), but always buy a new one, to attract new good luck to your home, so to speak. Well, this is a nice tradition to start in my home I guess, and it's neither expensive, nor does it take too much space, so…