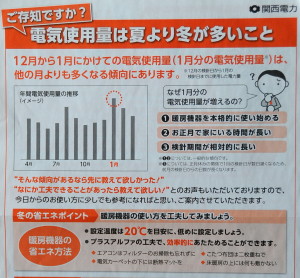 Together with my last electricity bill I received, in the beginning of December, an extra leaflet that warned that the next bill in January would most likely be much higher than usual. The leaflet was reassuring and explained the three reasons for this:
the increasingly cold weather requiring more (electrical) heating
the New Year holidays during which more people would stay home
and, also due to the holidays, an increased billing cycle
It was nice to tell me, but since the leaflet was in Japanese, probably every household had received it, which I find interesting. Shouldn't the Japanese know these things? Anyway, there was no reason to panic, and I felt well prepared.
Until today, that is, when the latest bill arrived. It was more than twice as high as the last one! I was quite shocked, because although I am wearing several layers of warm clothing at home, I am still feeling cold, especially in the evenings. Of course, I am only heating a single room – the office, where I spend most of my time – but I have to admit that I do not heed the electricity company's advice of 20 degrees is enough. Perhaps it is for the Japanese who seem to be more tolerant to cold in general, and maybe it is for those who cannot sit still for more than 5 minutes. But for this particular European leading, nay, celebrating, a sedentary lifestyle…
Anyway, since it is my own choice between a small bill or warm feet, I know which way to go. Besides, I figure that it'll even out again in summer, where I will forgo aircondition…