It was a great autumn day today, 30 degrees, sunny, with a clear blue sky… I celebrated by going to a quite unique festival in Yasui-konpiru-gu shrine: The comb festival or kushi matsuri. Similar to the needle festival I visited last year, here people bring their old combs and hair ornaments to the shrine where a ceremony is held for them.
Apparently the idea behind these ceremonies is, that when an object has been used for a long time, they possess spirit – imbued by their owner's or their own – and it is thus proper to send those spirits back to the gods instead of just tossing the item. Such ceremonies are held in various shrines and temples for a number of things: needles, combs, calligraphy brushes, dolls,… Unfortunately, I could not find out what would happen to the combs and hair ornaments that were brought to the shrine, but the thing in the back of the image below is called the kushi zuka, the comb mound, so maybe they are interred there, or at least, at some former time may have been.
Just like last year, there was first a ceremony and afterwards a short dance performance called "black hair dance" as an offering to the gods. The special thing about this ceremony at this shrine, however, is the attendance of about 50 young girls sporting the hairstyle of various periods in Japanese history. Of course, they wore beautiful kimono of the appropriate time as well, but the show piece were clearly the various coiffures.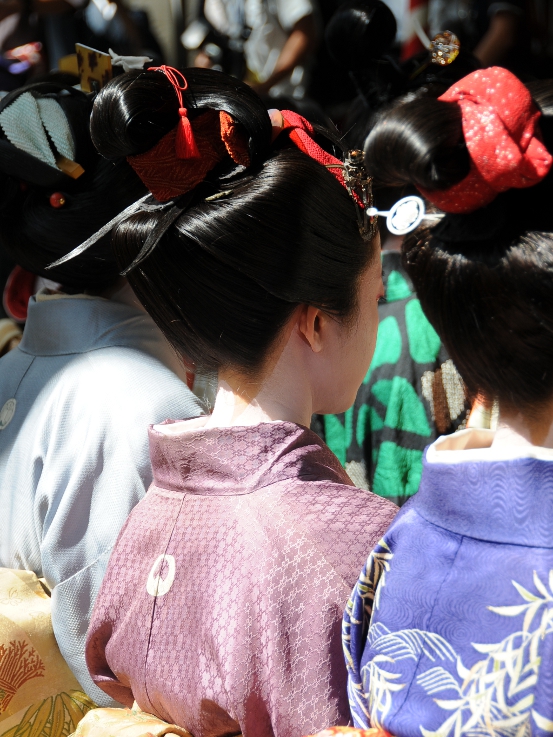 I asked one of the girls in an elaborate Edo period hairstyle whether this was all her own hair. In case you consider me rude: Geisha very often have rather short hair and wear wigs for their performances, so I was curious.
She said her hairstyle was about half-half, that some of the longer parts were hair pieces, made in the way they had been produced in the Edo period. It was very well done, and practically impossible to distinguish the pieces from her real hair, but, taking a closer look, especially from behind, you could see for example pieces of black paper that were used to style the hair.
She also said that finishing her hairstyle would take about 3-4 hours – she must have gotten up very early this morning! After the ceremony and the dance, the girls formed a long procession through Gion, but I did not go with them, I had had plenty of photo-opportunities in the shrine already.