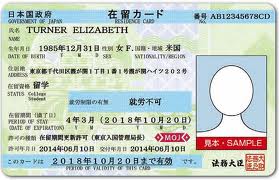 Ladies and Gentlemen,
it's time to celebrate. Please sing with me:
I'm an alien…
I'm a legal alien…
I'm an Austrian in Japan…
Okay okay, I was a perfectly legal Austrian in Japan even before yesterday when I was still on my tourist visa, but now *celebrations* I have received my residence card – zairyu card – and thus I am now a resident of Japan. For one year counting from yesterday!
Getting the zairyu card was actually rather straightforward. Yesterday I went to my soroban teacher so we could fill out the final forms and put some stamps on them. We also printed out some of the paperwork we used for the certificate of eligibility, just in case. Armed with yet another stack of papers I returned to immigration yesterday afternoon, and paid 4000 YEN for my change of status of residence application. They only needed the forms this time, but it seemed that the immigration officer made some copies from my old file. Anyway, it took only 15 minutes – and then I was presented with my very own zairyu card, what a relief!
Today, early in the morning, I performed my first duties of my newly gained residenceship: I went to my ward office to register my address. Of course all the forms are in Japanese, but there was a very nice officer who spoke very good English to help me filling them out, and afterwards I even noticed a few example forms translated into English posted here and there. I had to wait maybe 10 minutes or so while the clerk processed my application, and then I was presented with a sheet of paper containing my residence card code, whatever that is, probably in case I lose the card itself? Also, my address was put – using neat little stamps – on the back of my residence card.
From there, I moved on a few metres further to another counter and asked to buy health insurance. I had to fill in another form, put my signature on a tiny little spot maybe 15×15 mm (Japanese people use hanko), and then I waited again for another 10 minutes or so. Then I was presented with a printout detailing the payments I'll have to make and I already received my health insurance card and I'm allowed to see a doctor immediately. Health insurance for the first year (i.e., until March next year) is 2000 YEN per month because I did not have any income the last year. On presenting the card I will have to pay only 30% of the costs, the rest will be paid by the insurance automatically, as long as I see a doctor who is using the system.
So, the biggest things are accomplished! There are now a few smaller things I'll have to do, but those only feel like a bonus. The next few things on my list are opening a bank account, getting a library card, a bicycle, and a haircut. Not necessarily in this order. Now that I have a residence card, I can also get a mobile phone, but at this moment, I don't really need one, so…. I'll keep you posted in any case.
One year. I have one year in Japan.
Anything can happen in one year…