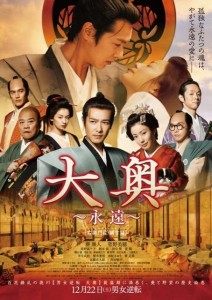 Imagine the following: It's Japan, at the end of the 17th century. You are the shogun, the most powerful person in the country. Everything runs well, you have a lovely spouse, an attractive concubine, and a countless number of admiring – and admirable – courtiers. But then, your one and only heir dies unexpectedly from a disease – and suddenly securing succession for your family by producing another heir becomes paramount. The usual courtly intrigues are reaching a new peak when the only solution is to ramp up your sex life, but…
…what if you're a woman?
This film, based on a manga, turns history upside down by assuming matriarchy throughout 17th century Japan. The 5th shogun, Tsunayoshi, is a woman who desperately endeavours to conceive a daughter to secure her family's succession on the throne. Interwoven with her story is that of Emonnosuke, a court noble from Kyoto who enters Tsunayoshi's services as potential mate and remains at her side throughout her difficult task.
The Castle of Crossed Destinies (Ooku Eien Emonnosuke), 2012, 124 min
Director: Fuminori Kaneko
Cast: Miho Kanno (Tokugawa Tsunayoshi), Masato Sakai (Emonnosuke), Toshiyuki Nishida (Keishoin)
The old problem of succession seen from a completely new point of view. Even in matriarchy, taking a different man to bed each night is frowned upon, and it does pose quite some difficulties for Tsunayoshi. Some true historical facts are hinted at, like the ban on killing dogs, but the film lives mainly from the reversal of the sexes and the elaborate costumes and stage designs. There is a lovely happy ending, though…
This film is available in Japanese from amazon, but I have not found a version with subtitles.