While I was out and about in Saga for the Dainenbutsu Kyogen last weekend, I also veered a bit off the beaten tracks to a tiny temple called Gio-ji (emphasis on the o). Well, it's not really a temple, more of an hermitage, with a single building. There is one Buddha statue in a room that is not bigger than most modern living rooms. In fact, the temple is mostly garden; huge maples and other trees in a bed of moss with the occasional lantern or memorial stone. Right now is not the best time to visit, as you can see below. The moss is at its prime during the rainy season and the temple shows off its beauty when the maples are blazing in autumn, of course (as in the last two photos).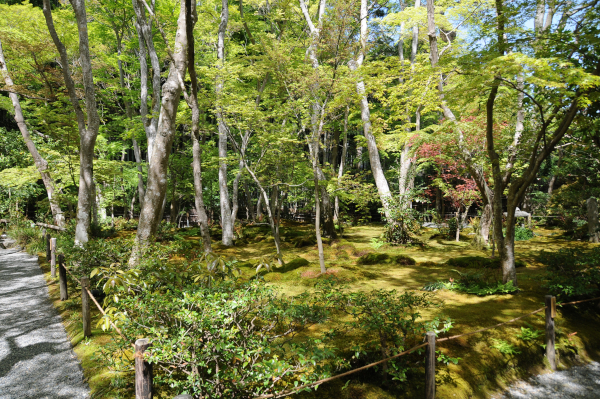 Gio-ji was not alwasy that small though. Once it was part of a larger temple complex called Ojo-in which is said to have reached all the way up the mountain. This temple was allegedly founded in the late 12th/early 13th century by a disciple of Honen, he himself founder of Jodo-shu Buddhism. Be that as it may, this large temple fell into disrepair, and all that's left today is the little hermitage and the moss garden.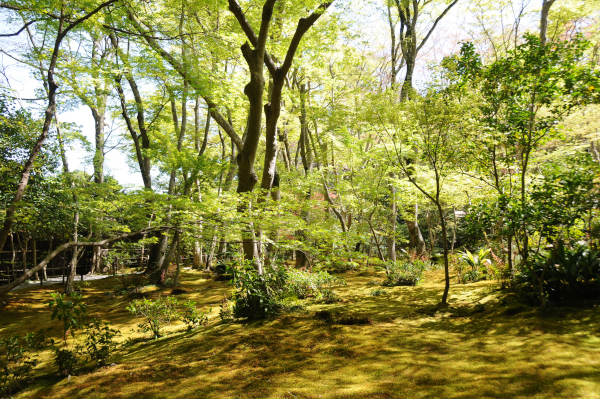 However, Gio-ji is more than just a remnant of another temple, and it is more than just another pretty spot for moss and maples in the Arashiyama mountains. What makes Gio-ji famous is the story behind its name, the story of a woman. The following is a story as related in the Heike Monogatari: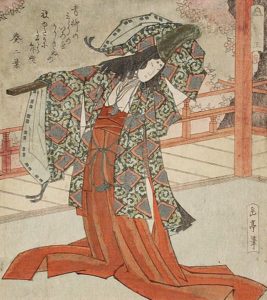 Gio was one of the most beautiful women of the 12th century. She was a shirabyoshi, a dancer, and, as beautiful women often do, she had numerous admirers. One of them was Taira-no-Kiyomori, the military leader of Japan in the late Heian period. This powerful man took a liking to Gio and, as powerful men often do, wanted to have her all for himself.
Gio fought hard. She resisted with everything she had, brought up a younger sister and an ailing mother she had to take care of. But Kiyomori insisted, sent poems, beautiful robes, and other gifts. Eventually, Gio's defenses broke down. Besides, what could go wrong as the mistress of the country's de-facto leader? So, Kiyomori installed Gio in the palace. She had traded her freedom for the easy life plus all the attention a dancer could crave. But of course, it couldn't last forever.
Gio's luck ran out when that of another woman started: Kiyomori had cast his eye on a new, younger dancer called Hotoke. And the story repeated itself: Kiyomori courted Hotoke with all he had and eventually installed her in his palace. And Gio had to leave.
Even though Gio was only in her 20s at the time, she decided to become a nun. And it is said that she together with her sisiter and mother, took up residence in the little hermitage that today is Gio-ji. This is why you will find not only Buddha, but also statues of several nuns in the little room at Gio-ji. And among the temple's graves are that of Gio and her family.
Is the story true? Probably. It is told to us in the Heike Monogatari, one of the epic tales of Japan, that dates back to at least 1330. We can expect that the story was embellished over time, of course; a Noh play, and many other retellings of the story did help with that. No wonder, it's a timeless story that we have all heard one way or the other…