The Eight Views of Omi is a series of woodblock prints from the Edo Period, depicting scenes from places around Lake Biwa. The Biwako is the largest sweet water lake in Japan, its southernmost tip is only some 20 minutes east of Kyoto. Historically, the province in which Lake Biwa is located was called Omi, and many little towns around the lake still have Omi as part of their name.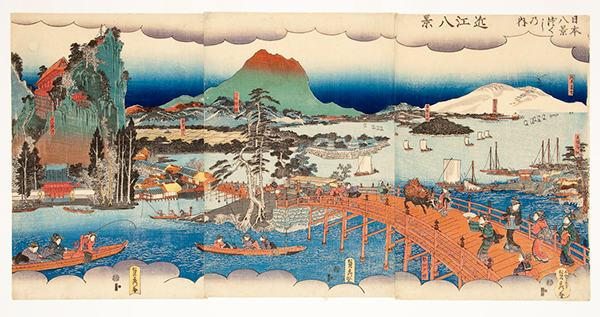 The idea of the Eight Views goes back to China, in particular to the 11th century paintings Eight Views of Xiaoxiang. Eight Views were considered the most beautiful or significant scenes of an area, and since many artists made images like that, these can be seen as an early version of visual advertisements. The idea came to Japan in the 15th century and inspired prince Konoe Masaie and his son Naomichi to a series of poems about eight scenic places on nearby Biwako. In the early 18th century, woodblock printer Nishimura Shigenaga took Konoe's poetry and turned it back into images, his Eight Views thus becoming one of the first series of landscapes made in Japanese woodblock printing art.
From there on, many different artists took up the theme and produced at least one series of Eight Views of Omi. However, the most prolific of all artists was Hiroshige, who made at least 20 different series over a number of years. The topic was popular until well into the 20th century, when the modern shin-hanga style of woodblock printing evolved from the old ukiyo-e. For example, Ito Shinsui produced a series of Eight Views of Omi as late as 1917. Note that there is also a series of images called The Eight Views of Lake Biwa, however, this refers to a modern version with some different locations created in 1949 by the government of Shiga Prefecture (the modern name of the area around Lake Biwa).
The Eight Views of Omi are usually called by the following titles:
The Eight Views of Omi were very popular, and many artists have taken the concept and transplanted it to other regions of Japan in what the Japanese call mitate. For example, there are Eight Views of Kanazawa, Samani, near Edo… Many of those prints copied the underlying ideas of the original images, like "evening glow" or "clear breeze" and transported them to suitable other locations. Yet other artists have taken the theme a bit further and produced Eight Views that parody the original, for example the Eight Views of Beautiful Shields by Utagawa Kuniyoshi, showing samurai, or his Eight Views of Wise Women. Isoda Koryusai produced Eight Elegant Views of Fukugawa, depicting beautiful women. In 1927, a set of modern Eight Views were introduced, showcasing scenic landscapes from all over Japan.