I have to admit that in my Wednesday post about the flea market, I committed the sin of omission. The soroban (which I have put to good use for the first time in today's class) was not my only purchase. I also bought a haori.
A haori is a kimono jacket that can be as short as waist length but usually goes down to about mid-thigh. Traditionally, it was made in black silk with white family crests on the back and the sleeves, and was worn by men only, together with their standard outfit of kimono and hakama. With the big changes in the Meiji period, however, they became fashionable for women also, albeit in much more fancy colours. I have heard that haori were often made by simply cutting off an old kimono and thus removing damaged parts, for example at the hem. As a haori is a jacket, it is not meant to close in front as a kimono, but is merely held together by two simple ties called haori-himo. The black, most formal haori for men are held together with white haori-himo with a big, feathery tassel in the middle.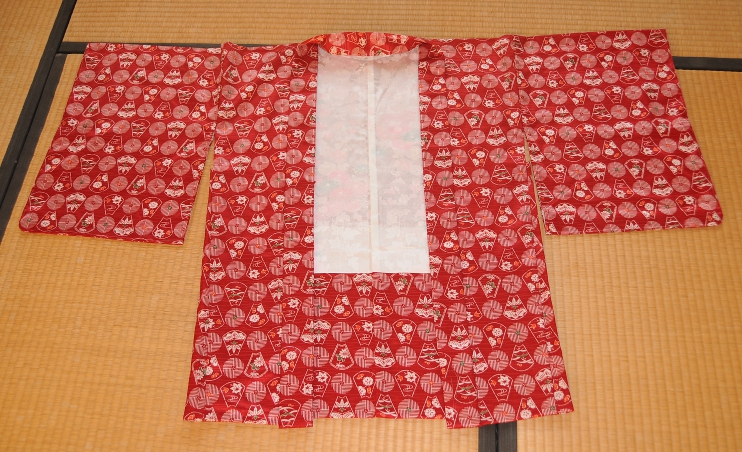 Above is a picture of my brand new second hand haori, made of red silk with a somewhat geometric pattern (yeah, the nerd in me…) and with white lining and long sleeves. It is beautiful, and I hope that it is rather warm as well – it is surprisingly heavy, after all.