Five Women Who Loved Love
Saikaku Ihara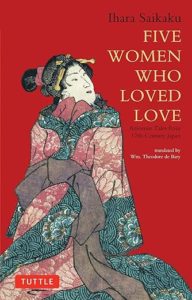 These are five novellas about (forbidden) love from 17th century Japan.
Seijuro in Himeji loses his father's (financial) support and, instead of spending his time in the local pleasure districts, has to find serious work. There, he promptly seduces his master's daughter Omatsu…
The Barrelmaker Brimful of Love tells of a happy marriage between two people from its beginning to the tragic end of Osen and her lover…
What the Seasons Brought the Almanac Maker is another happy marriage destroyed by an adulterous prank instigated by Osan, the wife…
The Greengrocer's Daughter with a Bundle of Love meets a dashing young man after a fire burned down her house. When Oshichi loses sight of him, she is ready to commit a serious crime to see him again…
Gengobei, the Mountain of Love, is a samurai from Satsuma who only loves young boys. Enter Oman, who is determined to change his ways for her own happily ever after.
These five stories are filled with eroticism, even though they are quite tame from our modern perspective. What makes them special – groundbreaking in fact, when they were written – is the detailed depiction of the life and affairs of Japan's lower class townspeople in the Edo period. At that time, having an affair outside of one's class (in general: with a higher-class woman) was forbidden and punishable by death. Yet, four of five women carry on such affairs regardless, and seem to take their inevitable punishment in their stride.
All five stories are based on real events that often happened just a few years earlier. This familiarity to the readers may have been one reason why they were instant bestsellers – the other one being the eroticism – and Saikaku quickly became one of Japan's best-known novelists and poets of the time.
Saikaku Ihara (1641 – 1693) was a citizen of Osaka, then as now one of Japan's commercial centers with a thriving population. He was one of the first to write exclusively of the chonin, the townspeople and their (love) affairs, and he was extremely popular among the people.
Contemporary writers found his style less appealing: Basho famously thought Saikaku's style vulgar and uninspired, for example. In any case, Saikaku was very prolific and known for his marathon poetry performances, where he composed hundreds of poems on the spot. The "Five Women" were published in 1686 and remain one of his most popular pieces.
If you're in for something … well, not really erotic, but depicting "real" life in 17th century Japan, get this one from amazon.