Together with maiko and geisha, the tayu are traditional female entertainers of Japan. And yet, they are much less known to the (foreign) public, partly because today, there are even fewer of them than there are geisha, and partly because of their origin: In the Edo period, tayu were courtesans.
At that time, prostitution in Japan was legal and strictly regulated. The three largest cities – Edo, Kyoto, and Osaka – had city districts dedicated to the love for sale. In Kyoto, this was the Shimabara district, which lies near Kyoto station and still maintains some of its charms (if not the prostitutes). In Edo, it was the famous Yoshiwara district, and old photographs show women sitting in rows behind wooden lattices, ready for work.
You would search in vain for a tayu among them, though. Just like their geisha sisters in the hanamachi, tayu were highly trained and honed their skills in dance, playing instruments, and seductive banter for years. As a tayu, the top-ranking courtesan of the town, she commanded the highest prices for a meeting, and her lovers counted among the country's elite, financial or in society.
And so were the tayu. In old Japan, the views on prostitution differed greatly from that in the West. It was simply another job. In fact, the young women in the photo above may have come to the Yoshiwara only temporarily to help with family finances. When they returned home, their reputations – and even marriage prospects – were untarnished.
In Kyoto, the famous Yoshino Tayu is revered to this day. She is said to have been the most beautiful tayu in history, and she is featured in kabuki plays and Japanese novels. Her wealth was such, that she could afford to donate a new front gate to Joshoji temple in Kyoto. She was laid to rest there, and has a festival in spring dedicated in her honour.
Kyoto's Shimabara district and its entertainments are long gone, and although there is still a tayu in Kyoto, she doesn't usually perform in public. However, I was lucky to see her dance at an exhibition with photos of her, and it was truly special.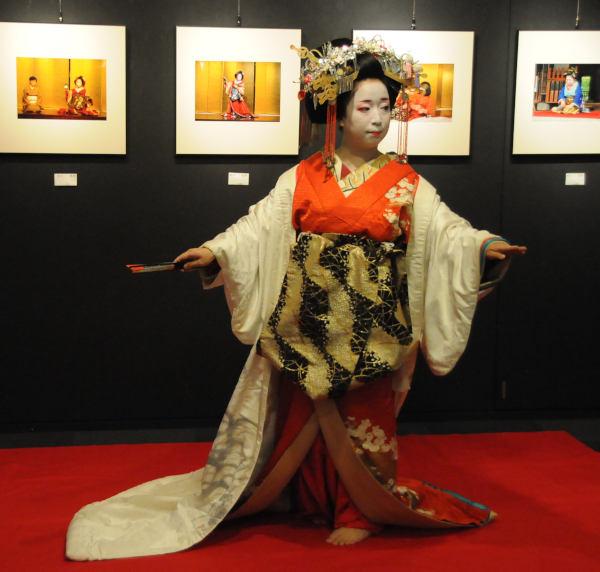 As you can see, the style of her dress is so much more flamboyant than that of any geisha – notice the colour red everywhere! The obi is tied in front where it is easy to undo – a nod to her work of old. I was quite surprised by the dragon painted on her outer kimono (which is a family heirloom, possibly more than 100 years old, btw.) as dragons are usually associated with men. Her hairstyle with the dozens of kanzashi pins must be very time-consuming to maintain, and yes, this is her real hair. She also has blackened teeth, something that was normal for married women in the Edo period.
The dance, at first, seemed not much different than the ones that geisha perform. A fan, a letter used as props to tell a story, delicate hand gestures, little kicks to get the long kimono out of the way. And yet, her dance seemed so much more erotically charged, and I'm not sure why. Was it the smiles, the raised eyebrows? The shy looks flashed to the audience from behind the fan? Or her naked toes peeking out from beneath her red underkimono?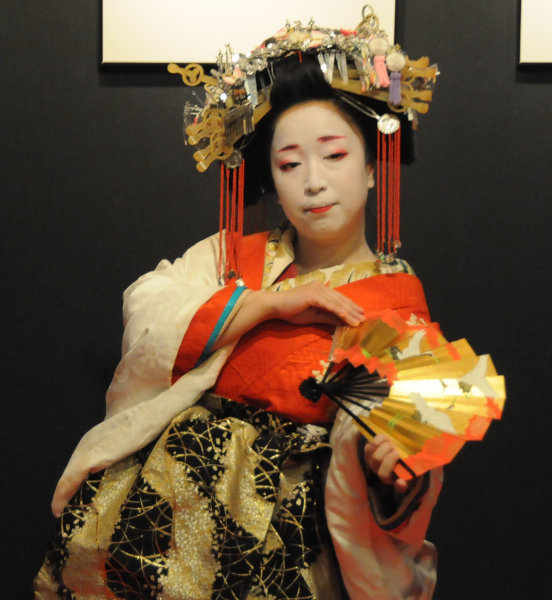 I guess, where a geisha means to symbolize an almost maiden-like modesty, a tayu is seen as a grown woman who knows what she wants – and how to get it.