A friend of mine is an artist who makes woodblock prints in the shin hanga tradition, and his flower prints have a very distinctive style. He is also teaching people the art of shin hanga woodblock printing, and some time back in June, I went to his yearly exhibition of prints made by his students.
Art is something very personal, and my approach to it is straightforward: Either I like something, or I don't. I don't care for big names or current movements, if something doesn't strike a chord within me, that's it. I guess I would neither make a good art critic, nor a good art collector… Anyway, I went to my friend's students' exhibition without big expectations and I was not disappointed. Some pictures I just passed by, others I recognised because they were of places in Kyoto I had been to myself, and a handful or so were really fantastic.
My favourite print was a scene from the Japanese Alps, somewhere in the central provinces: A high mountain range during sunset. It instantly reminded me of home; the bare rocks of the mountains, the gleaming colors of the sun lit slope… I returned to this picture two or three times, and I talked about it to the people at the entrance (also students of my friend), and then I left. And nothing more happened.
Until a few weeks ago when my friend announced that the student who had made the mountain scene had decided to give it to me. Just like that…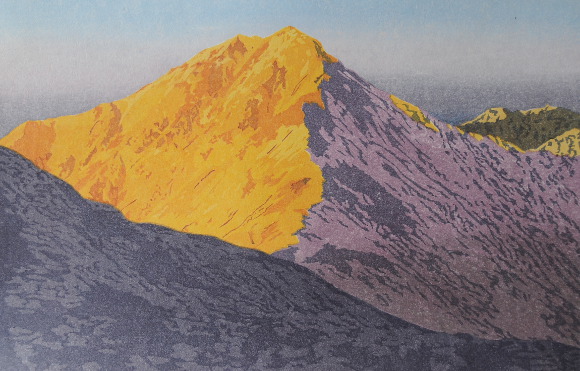 It's called "Evening Sun at Kitadake", which is the second highest mountain in Japan with 3193 m elevation.  It's a very simple image but very powerful, to me at least, who loves mountains. And that's exactly the way the Austrian mountains look like – it makes me almost a bit homesick! I now only have to frame the picture and then I will hang it on a wall in my new home to remind me of my old home one and a half continents away…