Every Tuesday I have a work meeting in town that usually takes two hours and is pretty much, well, business. Last week, however, there was a kimono exhibition in the same building where the office is, so it was decided that we would go upstairs and have a look.
It was fantastic! All the kimono and obi were silk, handmade and exquisite – and of an appropriate price class, of course. Have a look at the kimono above. They are not yet finished, meaning, only roughly sewn together to be fitted to the final buyer. Each of them is made of one those rolls of silk that you see lying there; each roll holds about 14 metres of cloth.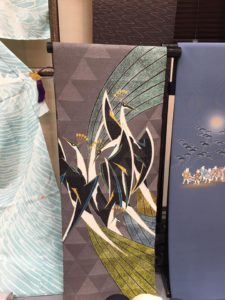 The obi are handmade as well, and we saw somebody applying gold leaf to an obi in a technique called kinsai. Other obi were "simply" embroidered by hand, which for a standard obi of four meters length and more will take a while. No wonder they can be more expensive than a kimono. Interestingly, an obi is the main accessory for a kimono. If you buy a kimono in a not too flashy color, you will be able to wear it for years – and dress it up or down according to the formality of the occasion, and the age of the wearer with an appropriate obi. I'm not sure if you can get away with only owning a single kimono, but it seems you won't need as many as Western clothing.
The picture below shows my favourite kimono. It is made in the yuzen dyeing technique, which essentially means it is hand painted. The artist, a man in his 60s, was present at the exhibition, and he says that it took him 20 years to master the technique. Remember that a kimono is made of a single roll of silk? It is not cut during the painting and the artist said that by now, he can paint the whole cloth in a way so that when it is cut up into the kimono, the sides of the design will fit together perfectly. He laments the decline of the kimono as a whole, which is not surprising if you know that one of those may take him up to six months to complete, and it will cost about 1.5 million yen. At the moment, he is looking for an apprentice, so if you have 20 years to spare…