During my time of internet absence, lots of things happened of course. In fact, I was really busy and sometimes quite happy that I did not have to write a lengthy post after a day of running around. However, I will let you know more details in the next few days.
In the last six weeks, it has slowly become spring. Mostly at least. Last Thursday, finally, the perfect day had come for this year's hanami – cherry blossom viewing. I took the opportunity to explore new parts of the city on my search for the perfect cherry blossom. Essentially, I went south along the Takano river to Demachiyanagi where the river unites with the Kamo river and then along the other half of the V to the Botanical Gardens.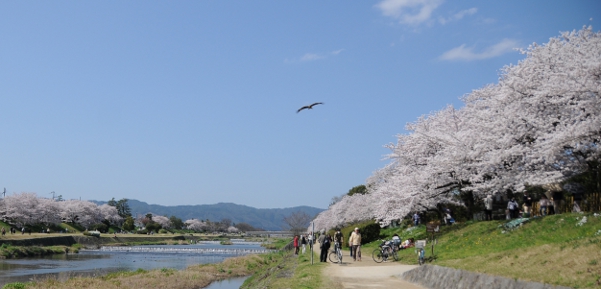 It was lovely weather, warm with bright blue skies, and as I was walking in the early afternoon, there were lots of people out for their own hanami. Throughout the city, both sides of the River Kamo are lined with cherry trees, and last Thursday was the day when they finally fully opened their white blossoms.
Unfortunately, it started raining on Friday, and since then it has cooled considerably. Although the cherries are still in bloom, they have lost many of their delicate blossoms already, so even if the weather gets warmer again soon, I think the main season is over. Oh well, here are a few of the pictures I took this year: